Traveling With Your Pet; In Five Steps!
on Nov 17 in
Dog News
5 steps to a relaxing vacation for the both of you!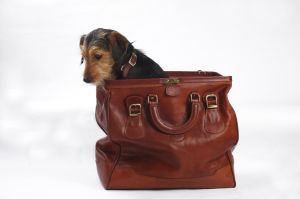 Traveling with your pet can be fun and stressful, make sure you are prepared from all angles before bringing your best friend 's bags. Here are some tips and pointers for vacationing with your pet.
1.       The first step is to make sure your pet is healthy before traveling, bringing a sick pet along with you will surely endanger your dog's health and will not make your vacation very enjoyable. If this is the case, I encourage you to either stay home or entrust your sick pet in a very responsible friend that will be able to administer medications properly. Healthy pets sometimes still need medications, so make sure to bring these along and pick up extras from your veterinarian just in case. Also, making a health visit before travels is a safe and smart idea to make sure everything is in order and prevent any illnesses away from home.
2.       Making sure your dog is up to date on vaccinations and his/her shot records. This is especially important if you are planning on traveling via airline with your pet. Having your dog's paperwork with you is essential especially when you aren't staying with family and are staying in a hotel, motel or resort. The paperwork should include a current health certificate, license and proof of ALL vaccinations. Your regular veterinarian's phone number (because it is much easier to call your own veterinarian with a non-emergency concern rather then finding a local veterinarian that doesn't know your dogs).
3.       Changes in schedules can be tough on your pooch, so make sure you make as little changes as possible. Bring your dog's regular supply of food along for the trip, changing up food type or amounts could stress them out. Also, bring bottled or local water with you everywhere you go on your tip along with their medications! Water is obviously essential anywhere you go, to make sure your dog stays cool and comfortable. Hydration in stressful situations, especially car rides and warm vacation spots, is the key to a happy pooch! Also, remember that you are not at home and you can't leave your best friend unattended for a long period of time. It's a strange place, and you wouldn't want to be left alone either!
4.       Identification is key in travel because of the unpredictable nature that vacationing can bring. Pets can become stressed and not remain obedient, or become excited in their new surroundings and will become very unpredictable. Making sure that your pet is properly identifiable is a must in these situations. You leave the hotel room door open, even only for a few seconds is all it takes, and your pet lunges down the hallway and out of sight. The I.D. tags should have the pet's name, your address, name and phone number and the place where you are staying over vacation (maybe accompanied by a local phone number where you can be reached as well).
5.       Plan ahead! Make sure that the hotel you are staying in allows dogs, and also check to see their restrictions. Most hotels nowadays do not allow dogs and if they do there are certain size and/or breed restrictions. Make sure your dog meets the requirements of the place you are staying at and has all the paperwork needed to stay there. Making a quick phone call to your planned hotel will solve all your worries. Also, check your bags to ensure that you packed a leash (or two!), leashed dogs are a must during travel no matter how well behaved he/she usually is at home! Bring little baggies to clean up after your dog and outside of the hotel, this is usually a rule and if not it's very polite to be courteous!
Now that you've taken all five steps you're ready to take off on your vacation! Having these five steps down, you both will enjoy the much needed break!